See an example of an actual install, its impact on performance and the story behind its use.
Kyle Diemer | Assistant Coach | Queen's Creek Bulldogs
Sitting in our coaches meeting prior to summer ball starting, we knew we had a challenge ahead of us. Our team was returning no varsity starters and our entire roster had very limited varsity experience. We knew we were going to have to coach - and more importantly teach - our butts off through the summer and throughout the season.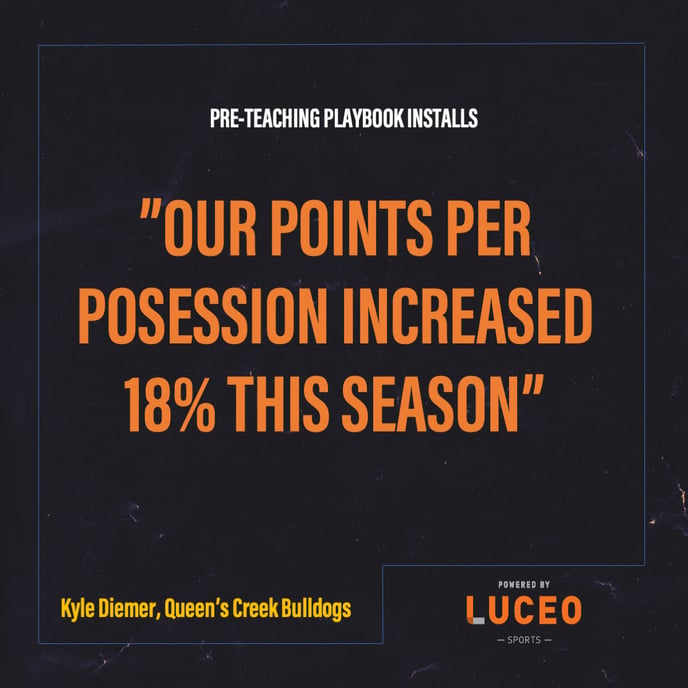 We needed way to create an effective learning environment and could not waste any precious practice time. We decided we would go all in on Luceo, as we felt it gave us the best chance to be successful. When it was all said and done, we went from pre-season #25 to finishing #13, hosting a first round game and making school history by getting to the 1st ever sweet 16 in 6A classification.
Here is how Luceo helped us have our historic season:
The biggest impact we had coaching with Luceo was with our pre-teaching. We installed our entire offensive system with the help of the Luceo platform. We were able to combine film and play animations to create videos for our players to watch prior to practice.
To make these videos we would load film clips of what we wanted to install for that day in practice into the app, right where the play animations we made are stored. We would then use the Coaching Moments feature to go in and record our breakdown of the animations and video, teaching the specific concept we wanted to implement that day in practice.
MEASURABLE IMPACT
Our players would watch the video prior to coming to practice and were prepared to start applying that new concept right away. We saved anywhere between 15-20 minutes of teaching everyday which over the course of a week gave us an extra hour and a half of time that would have been dedicated to teaching/walkthroughs that we could spend on skill development and live play.
You could see the growth and understanding of our players throughout the season. It was no longer taking us 20 minutes to "teach" a new concept in practice. When we got to practice we were able to hit the ground running and get right into live situations because we already had our foundational understanding taken care before practice.
We also utilized the pre-teaching video method for scouting reports on upcoming opponents. We would make a "Scout Video" breaking down the other team. Our players could go back and watch as necessary, not to mention at any time just look at their plays and videos on the app.
The combined effect of saving time in live practice and giving our players increased access to our instructions was substantial. Our players had a better grasp of what we were teaching them, they executed better in games and we were able to get deeper into our playbook over the course of the season.
The result was an 18% improvement in our points per possession. This increase is even more impressive considering the lack of varsity experience our roster had from the year before.