How to add content to your Game Plan, publish & update it so it is visible to team members.
The last step is adding all the content you want in your game plan and sharing it with your players when it's ready for them to view.
Controlling the visibility of your game plan to players
1. Hit the gear icon in the upper right-hand corner of your game plan chapter to open up the editing options.
2. Choose "hide from players and members" to make the game plan in invisible to players until it's finished.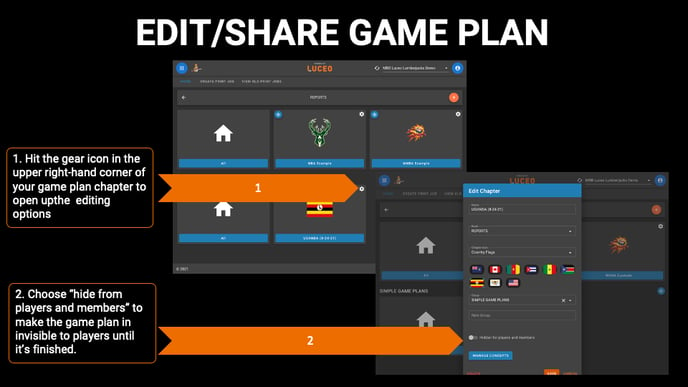 Adding content to your game plan template
1. Select the blue icon in the upper left-hand corner.
2. Select the "Game Plan Editor" from the dropdown menu.
3. Hit the "Game Plans" tab and your team name then go to the "published" column, select the game plan template you want to edit and press "edit".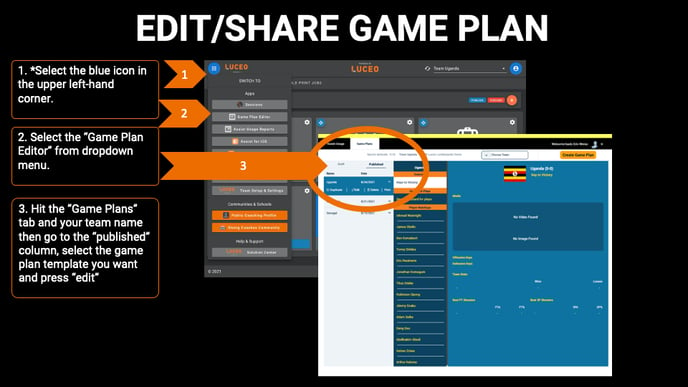 4. Select the section of the game plan you want to add content to.
NOTE: "Important Plays" must be added in LUCEO.APP using the "manage concepts" feature in the "edit chapter" options menu of your game plan report. (see "manage concepts" tutorial for details)
5. Add multiple images and/or videos to any section of the game plan report.
6. Add any type of text or statistical information you want. Fully customizable categories and table content.
NOTE: BE SURE TO PUBLISH BEFORE YOU EXIT TO SAVE UPDATES TO LUCEO.APP AND ASSIST!!!