Learn to use best teaching practices to maximize engagement & retention of playbook installs.
Learn more about:
TEACHING METHODOLOGY
Best Teaching Practices
Whether you are a teacher in the classroom or a Coach in the film room (or on the practice court) live instruction time with your students is limited. Therefore, the ability to extend learning beyond the classroom creates a tremendous competitive advantage for teaching.
Here are the five facets of effective instruction:
Pre-Teach (Flipped Learning via Luceo Coaching Moment)
Assessment/Discussion via Film Room
Live on the Floor Practice Reps
Memory Games (improve engagement/gauge recall of material)
*Usage Tracking (measures review of material/Informs coaching strategy)
Pre-teaching using recorded lessons provides advanced access to learning ahead of practice as well as increased access to a coach's instruction whenever needed. This method also helps to improve a player's understanding of the material entering into practice and film sessions, which should improve communication and execution.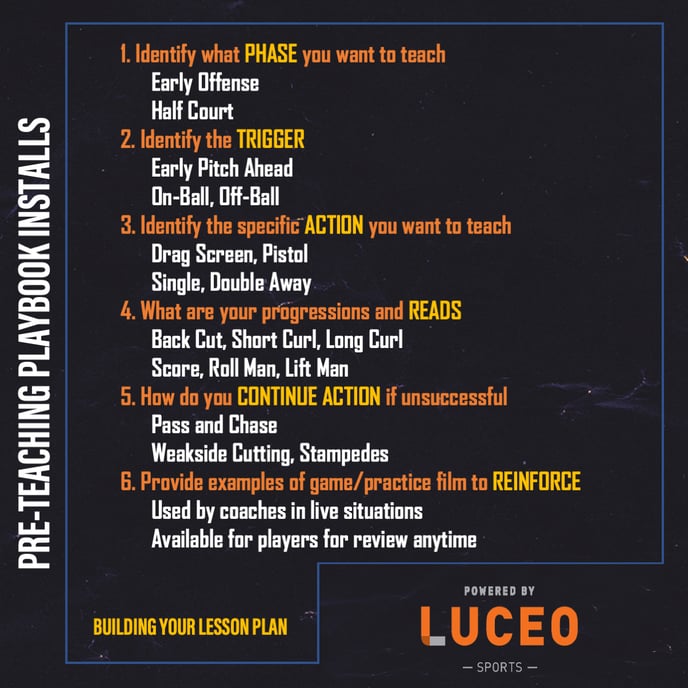 Coaches can also utilize Memory Games by turning play animations and video examples into quizzes, which reward points for speed and accuracy. These can be used during film sessions to make fun challenges for players, (to earn bragging rights or other rewards) who earn high scores for retaining your instructions.
*Usage Tracking reports (available to Pro level clients) are a great way to verify which team members are viewing what content, how much time they've spent on it and how recently. Coaches get a clearer picture of the time players are putting into learning specific things. This helps inform coaches about issues with execution - lack of effort, (not enough time spent) or comprehension, (lessons aren't clear enough).
ORGANIZING LESSON CONTENT IN LUCEO
The video below shows Coach Diemer Pre-Teaching his team's AWAY SERIES.
USING LUCEO'S CONTENT MANAGEMENT STRUCTURE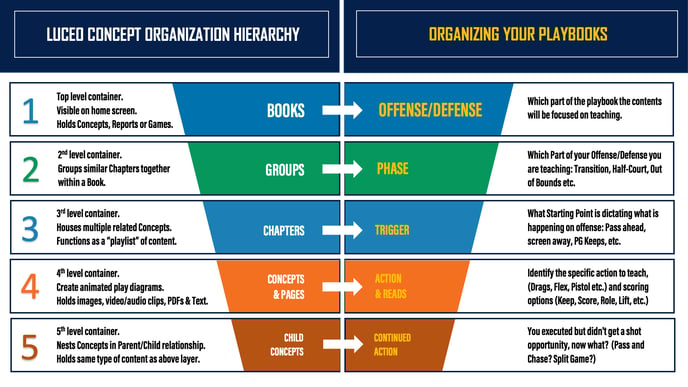 EXAMPLE: AWAY READS (Group: EARLY OFFENSE > Chapter: PG POINTS)
The Chapter content below is organized into sections by making the Concepts all caps and Child Concepts a numbered list for easy identification.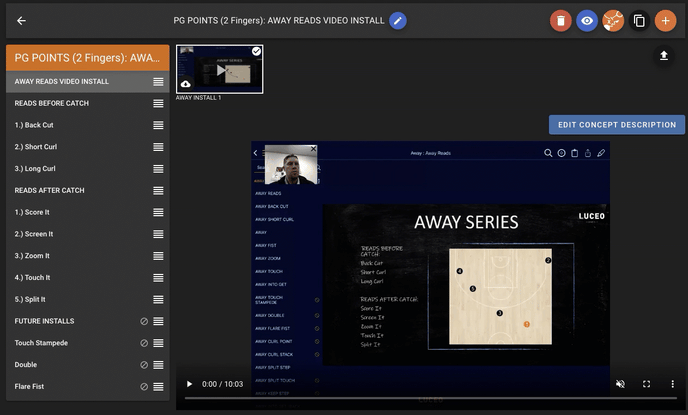 The Concept at the top of the list is where the recorded lesson is stored. All the material used for recording the lesson is organized in descending order below it. This makes it easy for coaches to navigate while recording as well as providing an outline for viewers to follow along.
NOTE: Everything from "FUTURE INSTALLS" and below is hidden from players by pressing the "eye" icon in the options menu in the upper-right of the screen. This allows coaches to build out play animations, notes & video clips for potential use in future installs related to the Chapter without having to store them someplace else.
Coaches can simply drag the new material into the right location when it is ready for use, make it visible, record the new install and save it under "VIDEO INSTALLS" as a new Child Concept (ex: Install 2).
THE END RESULTS
Kyle Diemer | Assistant Coach | Queen Creek Bulldogs
Sitting in our coaches meeting prior to summer ball starting, we knew we had a challenge ahead of us. Our team was returning no varsity starters and our entire roster had very limited varsity experience. We knew we were going to have to coach - and more importantly teach - our butts off through the summer and throughout the season.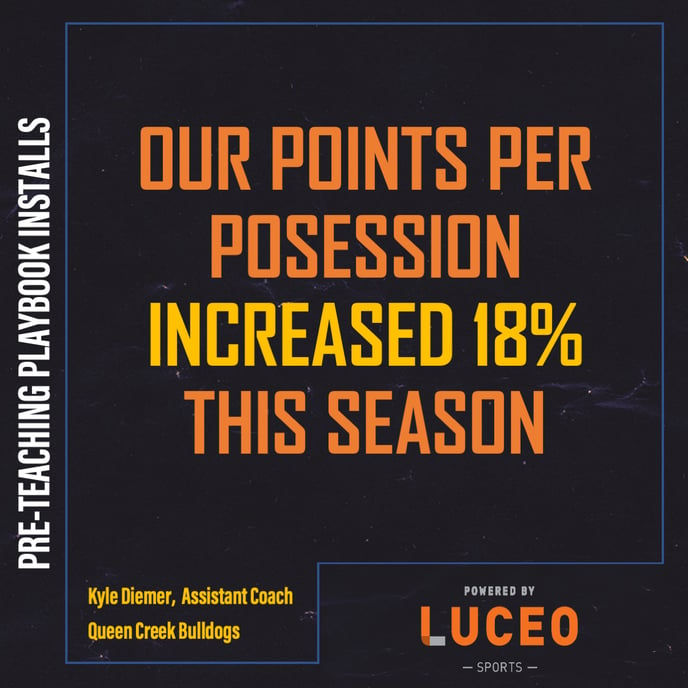 We needed way to create an effective learning environment and could not waste any precious practice time. We decided we would go all in on Luceo, as we felt it gave us the best chance to be successful. When it was all said and done, we went from pre-season #25 to finishing #13, hosting a first round game and making school history by getting to the 1st ever sweet 16 in 6A classification.
Here is how Luceo helped us have our historic season:
The biggest impact we had coaching with Luceo was with our pre-teaching. We installed our entire offensive system with the help of the Luceo platform. We were able to combine film and play animations to create videos for our players to watch prior to practice.
To make these videos we would load film clips of what we wanted to install for that day in practice into the app, right where the play animations we made are stored. We would then use the Coaching Moments feature to go in and record our breakdown of the animations and video, teaching the specific concept we wanted to implement that day in practice.
MEASURABLE IMPACT
Our players would watch the video prior to coming to practice and were prepared to start applying that new concept right away. We saved anywhere between 15-20 minutes of teaching everyday which over the course of a week gave us an extra hour and a half of time that would have been dedicated to teaching/walkthroughs that we could spend on skill development and live play.
You could see the growth and understanding of our players throughout the season. It was no longer taking us 20 minutes to "teach" a new concept in practice. When we got to practice we were able to hit the ground running and get right into live situations because we already had our foundational understanding taken care before practice.
We also utilized the pre-teaching video method for scouting reports on upcoming opponents. We would make a "Scout Video" breaking down the other team. Our players could go back and watch as necessary, not to mention at any time just look at their plays and videos on the app.
The combined effect of saving time in live practice and giving our players increased access to our instructions was substantial. Our players had a better grasp of what we were teaching them, they executed better in games and we were able to get deeper into our playbook over the course of the season.
The result was an 18% improvement in our points per possession. This increase is even more impressive considering the lack of varsity experience our roster had from the year before.