It is important to organize your content in a way that make it easy to teach and learn
The video below shows Coach Diemer Pre-Teaching his team's AWAY SERIES.
USING LUCEO'S CONTENT MANAGEMENT STRUCTURE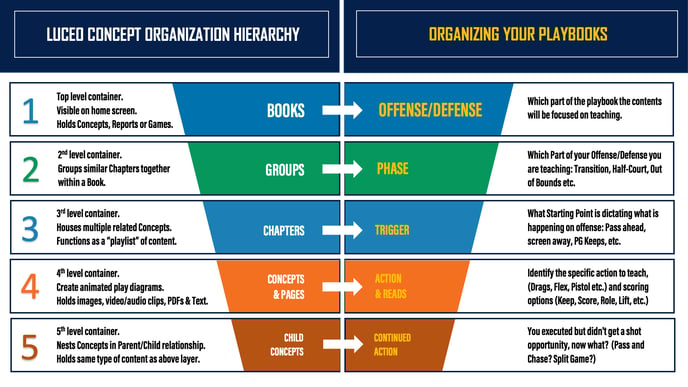 EXAMPLE: AWAY READS (Group: EARLY OFFENSE > Chapter: PG POINTS)
The Chapter content below is organized into sections by making the Concepts all caps and Child Concepts a numbered list for easy identification.
The Concept at the top of the list is where the recorded lesson is stored. All the material used for recording the lesson is organized in descending order below it. This makes it easy for coaches to navigate while recording as well as providing an outline for viewers to follow along.
NOTE: Everything from "FUTURE INSTALLS" and below is hidden from players by pressing the "eye" icon in the options menu in the upper-right of the screen. This allows coaches to build out play animations, notes & video clips for potential use in future installs related to the Chapter without having to store them someplace else.
Coaches can simply drag the new material into the right location when it is ready for use, make it visible, record the new install and save it under "VIDEO INSTALLS" as a new Child Concept (ex: Install 2).